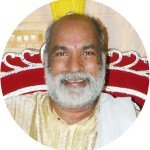 Jyotirbid Dr. Pramoda Satapathy was born on 26th Jnauary, 1959 Republic Day.
Jyotirbid Dr. Pramod Satapathy is a dynamic astrologer who is a specialist in Astrologer & Jantra, Mantra Visarada and practicing (professional) Astro-Vastu Consultant and considered as one of the best Astrologers of India.
He is a very successful astrologer in following Vedic Astrology, Bhrugu sanhita, Parasar and Krishnamruttee padhhati, Jemini System of Astrology, Numerology, Gemstones, Palmistry, Face Reader and Practicing research works on it, also advising remedial measures based on Astrology.
Solving problems through Prashna kundali & Vastu Vidya. He has experience of reading 75000 & above kundali (Horoscopes), technical command on the prashna kundali, horary astrology, phalita Jyotish & Astrological Analysis. Reporting on the subject of Health, Wealth, Property, Love & Passion, Marriage & Compatibility, Luck & Fortune, Karma & Economical sources. Astrologically Command on the Vimshottary, Ashtottarry, Yogini & Kala Chakaras Dasha.