Siddha Mangala Odia Panjika
Here is our all new Odia Panjika. This Odia Panjika 2017-2018 is probably the most recommendable thing for deciding any auspicious dates and times. We have done rechecks of this Panji multiple times for the least errors. So, you have got the assurance of getting the correct information you are looking for. Find dates and days of all the popular festivals in Odisha. Rashiphala, date and time for marriage, bratopanayan, griha pravesh are there. So, find out the all new Panjika below.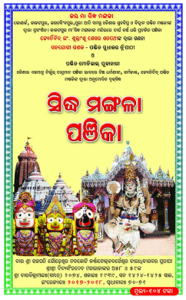 NOTE: Please select the month to check the full details
1. Mesha ( April 14 – May 14 )
2. Brusha ( May 15 – June 14 )
3. Mithuna ( June 15 – July 15 )
4. Karkata ( July 16 – August 16 )
5. Singha (August 17 – September 16)
6. Kanya ( September 17 – October 16 )
7. Tula ( October 17 – November 15 )
8. Bichha ( November 16 – December 15)
9. Dhanu ( December 16 – January 13)
10. Makara ( January 14 – February 12)
11. Kumbha ( February 13 – March 14)
12. Mina ( March 15 – April 13)
About Odia Panjika :
Mainly, you know there are six odia panjis. They are Asali Khadiratna Panjeeka, Kohinoor Panji, Gaudiya Vishnava Panjika, Biraja Panji, Bhagyadaya Panji, and Madala Panji. The Madala Panji the 1st regional language panjika in India. More about the history of Oriya Panji is here.
A Panjika is the astronomical almanac for Hindus. According to the Panji in Odia, the New Year starts on Maha Vishuba Sankranti. Most importantly, a Panji has the most usage in Odisha Household for determining the most auspicious times. For festivals, rituals, marriage, thread ceremony and many more religious purposes.
Siddha Mangala Panjika with Festival Days:
Our all-new Odia Panjika 2017 provides the correct date and day of all the festivals. Traditional festivals and days like Purnima, Amavasya, Sankranti, Ekadasi. Dola, Holi, Rama Navami, Maha Shivaratri, Rath Yatra, Ganesh Chaturthi, Sri Panchami, Navaratri and more are there in our new Oriya Panjika 2017.
Rashiphala, Auspicious dates and more:
The 2017-2018 new Panji mentions the Lagna and stars of a person basing on the birth place and time. Upanayana dates, Marriage dates, Griha Pravesh dates 2018 are available in this new Odia Panjika. Rashiphala (Horoscope) for 2018 of all the twelve Zodiacs is also there in Odia language.
Our Panjika may be new, but it has got the error free astrological calculations. Therefore, Hindu Pundits, astrologers, intellectuals have highly appreciated and recommended this Panjika. So, you should bookmark this exclusive page now.
For making Janma Patrika or jataka for your child you can use our Online Jataka Maker Service.
You may have searched these before visiting this page: Odia Marriage dates in 2018, Download odia panji PDF file. Biraja Panjika 2018 marriage dates, Kohinoor Press Panjika 2018, Odia Kohinoor Panjika for this year, Oriya upanayana dates for 2017-2018. Thread ceremony dates in Jagannath Panjika, Griha Pravesh dates by Khadiratna Panjika 2018 and more.